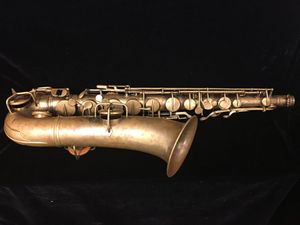 I have been toying with, obsessing over, ignoring and attempting to tame the C melody saxophone for years.  I currently own a pair of Conn's - the one pictured is a "stencil horn" called "Bruno NY" that I got for $100 as it was being sold as an antique wall fixture.
I love the C melody because it is a blank canvas - there is almost no model for it (except of course Frankie Trambauer and Scott Robinson).  I have obsessed over mouthpieces for it because depending on the equipment and my approach it can sound like a tenor or an alto or neither or both at the same time.
I bought my first one for $200 off of a friend who needed the dough, and it sat in a closet for about 10 years until my friend Robert Stillman called me for an album and said,"You don't happen to have a C melody, do you?" 
I have since played it on many gigs and only recorded it officially three times, once with Hush Point, once with Robert, and once with the New Old Timers.
Below are some samples from those records.
With New Old Timers (solo starts at 2:20):